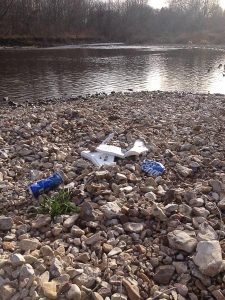 If you've grown up near rivers, lakes, or even beaches, it is almost guaranteed that you've heard the phrase, "You can't do that because it's illegal here." Most phrases like this are in reference to bringing glass containers, leaving behind trash, or having drug paraphernalia on the water, but have these warning phrases prevented any of that?
When we pick, we constantly come across glass bottles, needles, illegally trapped animals, and household trash, all of which are illegal to dump in the water, yet it still continues to happen, so we must ask the question, who isn't doing their job? Whether it be the local game warden, the police, or the conservation agent, there is quite obviously a gap in what needs to be done and what is actually being done.
While there are special circumstances and exceptions to everything, the protection of our wildlife and environment are not being prioritized like they should. There will be no people to protect if they don't have a planet to live on, if they can't grow foods without using toxic water, if they get sick due to the rotting corpses of animals that are left along the banks.
So, ask the tough questions, the ones that get people talking. Call your officials, your local agents, even your police. Ask what is being done to protect our Earth, and hold them accountable for what they say. "A different world cannot be built by indifferent people."